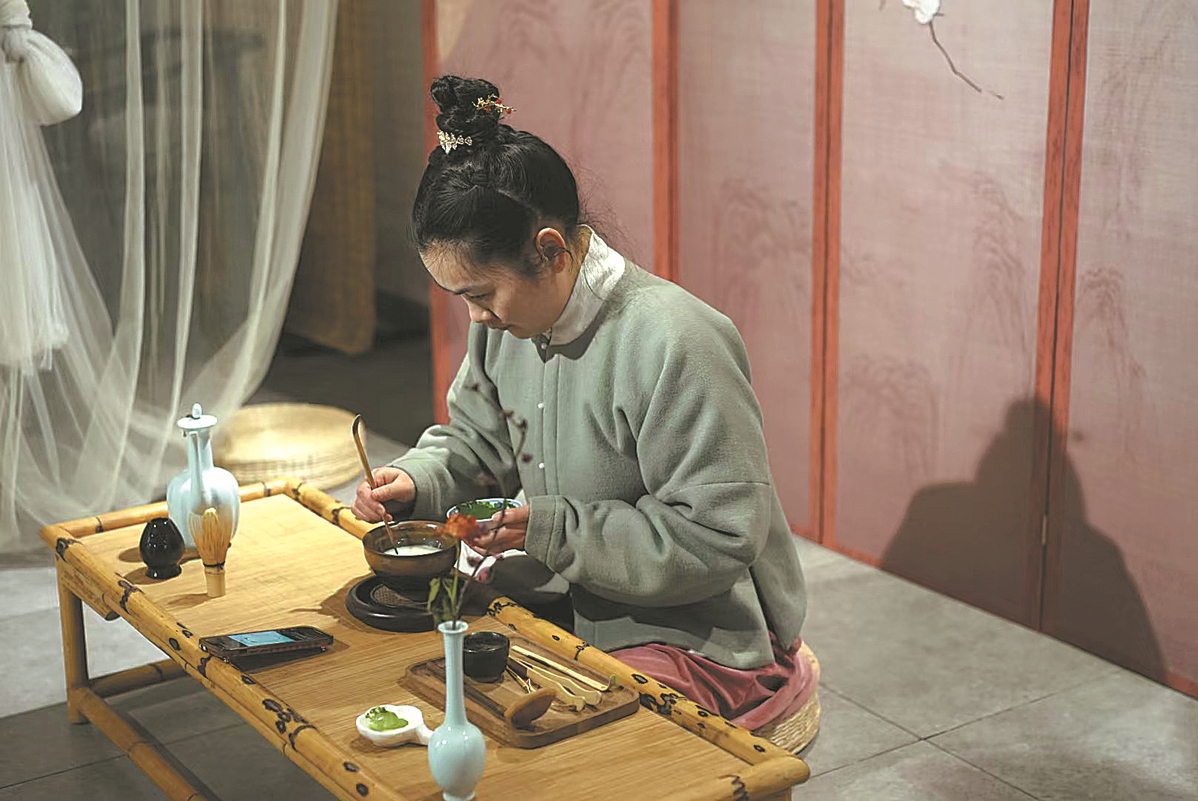 Inheritor of intangible cultural heritage teaches technique steeped in tradition
Zhang Hongyan has managed to perfect the tea-making technique of dian cha, which used to be a ritual during the Song Dynasty (960-1279).
"Hangzhou, in Zhejiang province, is the main host city of the upcoming Asian Games, and Jingshan village is a tourist spot. As a villager here and a volunteer inheritor of the intangible cultural heritage, I want to do something for the Games," Zhang, a famous local tea ceremony master, said.
The Games were scheduled to be held from Sept 10 to 25 in Hangzhou, but were officially postponed on Friday. The new dates will be announced in the near future.
In an interview with China Daily, Zhang, 35, explained her artistic process.
"First, I use a tea whisk to make a thick layer of white froth on the tea, then I mix tea powder and water to make a suitable 'pigment'," she said.
"I make artistic designs in the froth by using a teaspoon as a paintbrush and the froth as the drawing paper. I have drawn Games mascots Congcong, Lianlian and Chenchen, as well as some depictions of competitions such as fencing, weightlifting and archery."
This is called chabaixi in Chinese, which is a unique and ancient art form that expresses calligraphy and painting with tea froth.
"The thickness of the tea froth is very hard to master. Froth that is too thick or too light will lead to failure," Zhang explained.
She said her goal is to bring the old ritual back to modern life and have more people appreciate its charm.
"I want to integrate the elements of the Asian Games into the 1,000-year-old Song Dynasty style and culture, so that more people can inherit and carry forward Chinese traditional culture by the opportunities brought by the Games," Zhang said.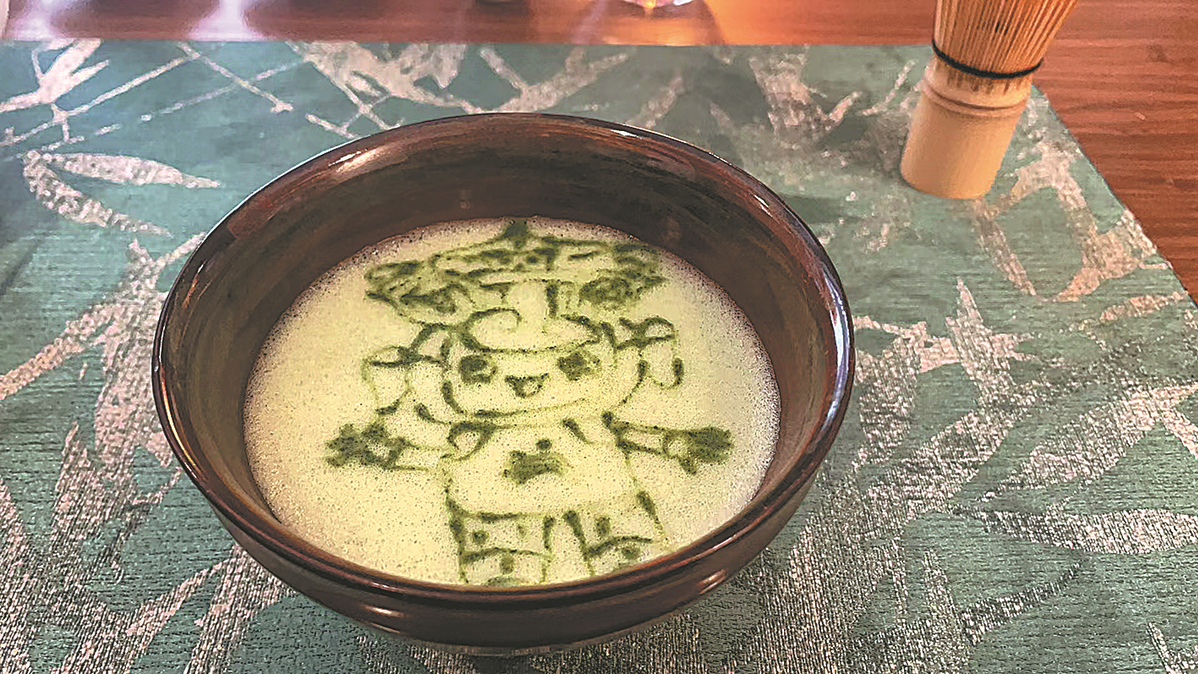 Chabaixi was derived from the dian cha technique used during the Song Dynasty, which shows the superb skills of those who made the art. "Dian cha was a way of drinking tea in ancient China," Zhang explained.
Chinese tea culture became popular during the Tang Dynasty (618-907) and flourished throughout the Song period, when tea had become a necessity for almost everyone, from nobles and scholars to common people. Like rice, oil and salt, it became an indispensable item, according to Song politician and philosopher Wang Anshi (1021-86).
Different from how tea was brewed during the Tang era, the primary way tea was made during the Song Dynasty was through dian cha.
The process begins with hot water being poured over fine powdered tea to create a paste. Then, more hot water is slowly added as the tea is constantly whisked by hand with a bamboo stick.
It is believed that this method later spread to other parts of East Asia, including Japan, where similarities can be seen in the way matcha is prepared today. This action of pouring hot water is called dian, hence the name dian cha.
Jingshan village, located in Hangzhou's Yuhang district, is well known for its mountain tea culture, which has endured for thousands of years.
Over the years, Zhang has used tea and spoons to create nearly 200 patterns based on subjects in ancient paintings, including women, flowers, birds, insects and fish.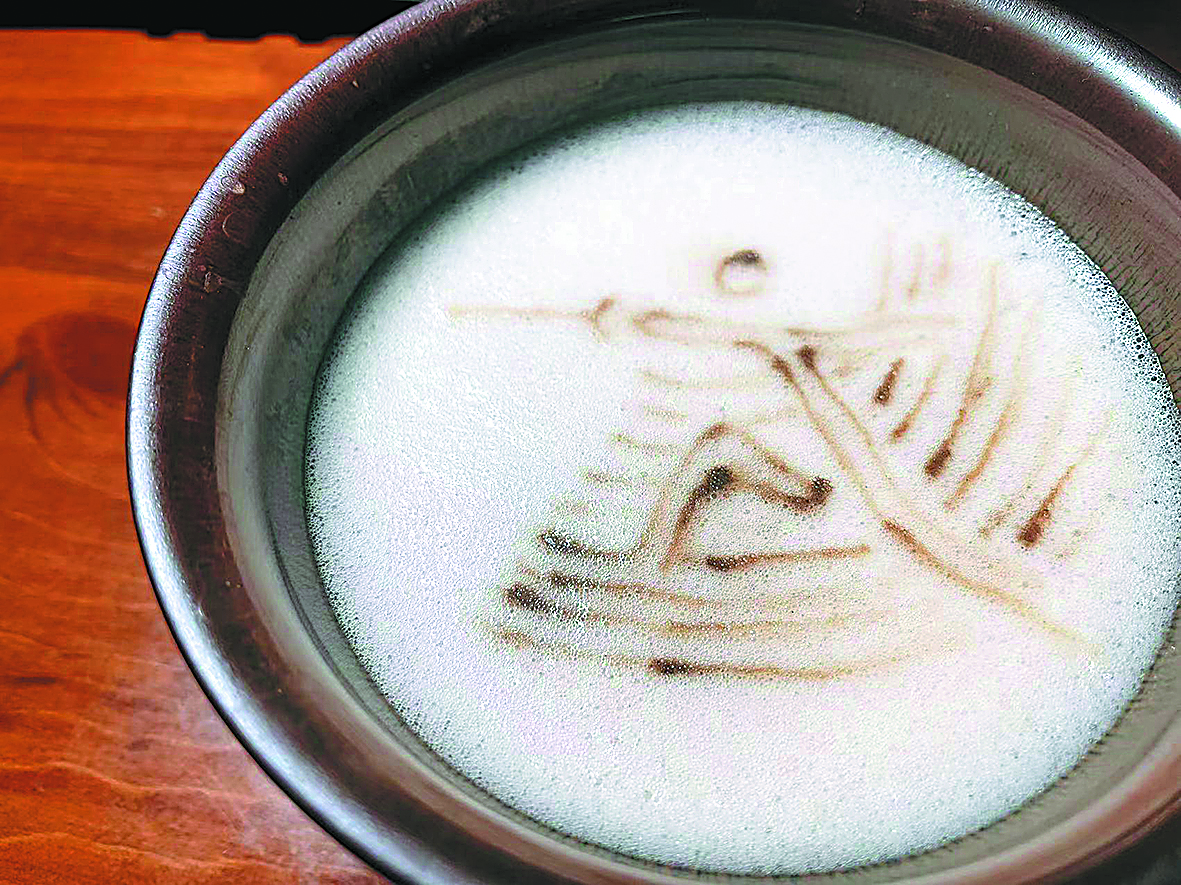 Before getting heavily involved in the tea industry, Zhang worked as a traffic police officer in Yuhang after graduating from university in 2011.
At a family gathering many years ago, Zhang's mother talked to her about the difficulties that a local tea factory had been having and requested that she return to help.
Zhang, who had been fascinated by the Song Dynasty tea and art culture since childhood, agreed to return to assist the industry's development. In 2016, Zhang founded Hangzhou Jingshan Yunlaiji Business Management (Wufengshanfang) with the help of her family.
Wufengshanfang, located in Jingshan, is a homestay aiming to integrate leisure tourism with the local tea industry. The 400-square-meter space consists of 12 rooms and can accommodate about 50 people for training and activities. There are more than 100 hectares of tea gardens nearby, where tourists can experience traditions such as picking tea leaves, making tea and learning dian cha.
"As a young entrepreneur, I wanted to bring the young idea and energy to my hometown," Zhang said. "So I redecorated the original old house into a homestay and integrated intangible cultural heritage experiences, including Jingshan tea frying and teapot-making activities and opportunities to try on hanfu (traditional clothing of the Han people in ancient China). I also created the Jingshan Tea Club."
The homestay has received recognition, being designated as a model homestay in Yuhang and in Hangzhou. It has also been dubbed an excellent intangible cultural heritage homestay in Yuhang. "As a representative of the Jingshan Town People's Congress, I also want to do something for my hometown. So I have set up a social organization, and I do public services such as providing free tea art training and offering free porridge at the Laba Rice Porridge Festival," Zhang said. (China Daily)