China's cooking styles and dietary preferences can be divided into many geographical areas, and each area has a distinct style of cooking.
Features of Chinese Regional Cuisines
China's regional cuisines (very) generally taste as follows:
Northern China food — salty, simple, less vegetables with wheat as the staple food
Western China food — hearty halal food with lamb the main meat
Central China food — spicy with a lot of seasonings
Eastern China food — sweet and light
Southern minority food — sour
Northern Cuisine — salty and simple with less vegetables
Regions: Beijing, Xi'an, Inner Mongolia, and Northeast China
Beijing Cuisine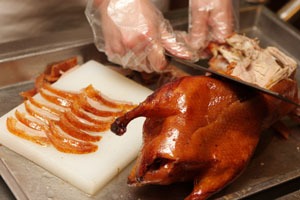 Peking roast duck — a famous Beijing dish
Beijing cuisine is influenced by a variety of China's cooking styles, due to being the capital, but mostly nearby Shandong and Inner Mongolia. It is famous for its imperial court cuisine, which originated from the imperial kitchens, where food was cooked for royalty and officials.
Inner Mongolia Cuisine
Inner Mongolian cuisine comes from the traditions of ethnic Mongols, and features dairy products, and all kinds of red meat (captive herds and game): mutton, beef, venison, etc. Typical dishes include roasted whole sheep, roast leg of lamb, and 'hand-grabbed'mutton.
Shandong Cuisine
Seafood — an important ingredient of Shandong cuisine
Shandong cuisine features seafood ingredients and a variety of cooking techniques. It is known for its fresh, salty, crisp, and tender flavors. Shandong cuisine chefs are very particular about making both clear broth and creamy soup.
Read more details on North China Food
Eastern China Cuisine — sweet and light with a lot of fish and seafood dishes
Regions: Guangdong, Fujian, Zhejiang, Jiangsu, Anhui
Eastern China Cuisine includes five of the famous eight cuisines of China, taken from the Pearl River Delta to the Yangtze River Delta.
Cantonese Cuisine
Cantonese cuisine tends to be mild. It focuses less on spices, but more on absolute freshness and natural flavor of ingredients. Most of its dishes use sweet sauces.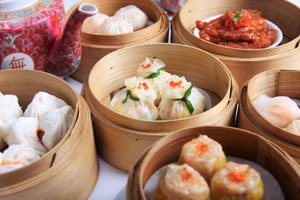 Guangzhou dim sum
Cantonese is the most widely served style of Chinese cuisine in the world. It is famous for its dim sum, bite-sized portions of food traditionally served in small steamer baskets or on small plates.
As well as spiciness, Hunan cuisine is known for sourness, as many pickles are very popular in Hunan. Common cooking techniques include pickling, smoking, stewing, stir-frying, and braising, and pot-roasting.
Fujian Cuisine
Fujian cuisine is famous for its abundant ingredients from the sea and mountains. It is characterized by its fine slicing techniques, various soups and broths, and exquisite culinary art. Fujian dishes are slightly sweet and sour, and less salty. Common cooking techniques include braising, stewing, steaming and boiling.
Taiwan cuisine is most like Fujian cuisine, as the geography is similar, and there has been most interaction between these two areas of China. There is also notable Japanese influence in Taiwan food.
Zhejiang Cuisine
Zhejiang cuisine comprises the styles of Hangzhou, Ningbo, Shaoxing, and Shanghai. It is famous for freshness, softness, and smoothness, with a mellow fragrance. It is characterized by its elaborate preparation and varying techniques of cooking, such as sautéing, stewing, steaming, and deep-frying.
Anhui Cuisine
Famous for the native cooking styles of the Yellow Mountains (Huangshan) region of China, Anhui cuisine features anelaborate choice of wild ingredients and the strict control of heat and cooking time. Most of its ingredients are from local mountain areas, leading to greater freshness and tenderness.
Jiangsu Cuisine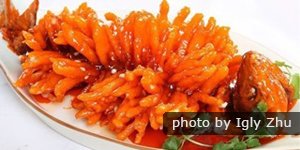 Sweet and sour mandarin fish — a famous Jiangsu dish
Jiangsu cuisine consists of Yangzhou, Nanjing, and Suzhou dishes. It is famous for its fresh taste, with moderate saltiness and sweetness. Ingredients of Jiangsu Cuisine mainly come from rivers, lakes, and the sea. It features precise and delicate carving techniques and various cooking techniques including braising, stewing, and quick-frying.
Read more on East China Food
Western China Cuisine — Muslim food and Tibetan food
Regions: Xinjiang, Tibet and Gansu
Xinjiang Cuisine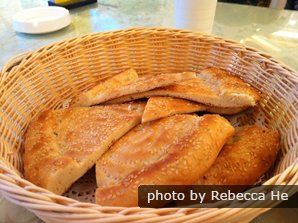 Xinjiang flat bread
Xinjiang is inhabited by many ethnic groups, and about half of the population belongs to the Uyghur minority, so Xinjiang Cuisine mostly refers to Uyghurcuisine. The food is predominantly halal food due to most Xinjiang people being Muslims.
Tibetan Cuisine
Tibetan cuisine is a blend of flavors of Nepalese, Indian, and Sichuan cuisines due to Tibet's position neighboring India, Nepal and Sichuan Province. It also has its own original dishes, influenced by its harsh climate where they farm yaks, e.g. yak fat tea.
Central China Cuisine — hot and spicy with a lot of strong seasonings
Regions: Sichuan, Chongqing, Hunan
Sichuan Cuisine
Sichuan food
Sichuan cuisine, from Sichuan Province, is famous for its particularly numbing and spicy taste resulting from liberal use of garlic and chili peppers, as well as the unique numbing flavor of Sichuan peppercorn.
Hunan Cuisine
Hunan cuisine is similar to Sichuan cuisine, but generally even spicier. It has a great variety of ingredients due to the high agricultural output of the region.
Southern Minority Food — sour with a lot of preserved ingredients
Regions: Yunnan, Guizhou and Guangxi provinces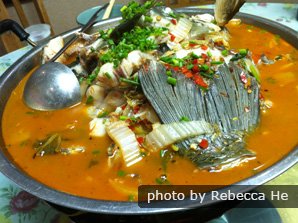 Guizhou sour fish
Southern minority cuisine is characterized by lots of preserved foods, particularly pickled vegetables and tofu, which give it its sour flavor. The many southern minorities are generally poor mountain farmers who preserve anything they can't eat immediately to prevent wastage. Fresh produce from far away is generally not available in their areas.
Chinese Cuisines' Dividing Factors
China's cooking styles and diets vary with geography, climate, infrastructure, history, religion, minority culture, lifestyle, etc.
Agriculture
The ingredients used in China's foods are traditionally based on the agriculture and wildlife of a region.
Wonton noodles
Northern China consists largely of flat plains, grasslands, and desert. There is low rainfall, and the winter is cold and long, which is not suitable for rice cultivation, but okay for wheat cultivation. Wheat flour is the staple, so wheat foods such as noodles and dumplings are widely available in the north.
In southern China, it is warm and rainy enough for rice; so people in the south eat rice as staple food. Compared to the blander fare of the north, China's southern cuisines are notable for their exceptional spiciness and their great variety of fruit, vegetable, fungal, and animal ingredients.
Minority Culture
The minorities of the south often live in the mountains, and wild plants and animals feature in their cuisine. Because of their poverty, they prefer to preserve almost everything to prevent wastage. The traditional way to preserve foods in the south are pickling in brine or vinegar, sun-drying, and curing.
The minority culture of Inner Mongolia is pastoral, so there are many dairy products along with lamb and beef in Mongolian cuisine. Tibetan cuisine is similarly set apart by the use of yak meat and other yak products.
Religion
The main religious influence is the halal food restrictions adhered to by Uyghur and other Muslim minorities in China's northwest. While Muslim food can be found in most cities, apart from in Xinjiang, Qinghai, Ningxia and most of Gansu it is not considered a regional cuisine.
Geographical Isolation
Taiwan, being geographically, and to some extent politically, isolated from China has developed its own mixed cuisine. Taiwan food blends a variety of Chinese styles brought by settlers, particularly from Fujian and Guangdong, its own Hakka and aboriginal minorities, and local tastes for seafood and game.
Palate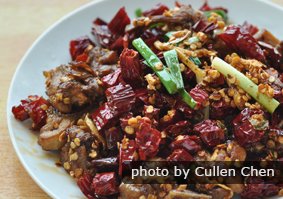 Sichuan diced chicken with chili
Sichuan, Hunan, and southern minority cuisines demonstrate a love for spiciness with their liberal use of chilies.
Though Chinese medicine health benefits are often cited as reasons for eating chilies, most Chinese eat spicy food because their palate is accustomed to it, and have been brought up on it. The same is true for other flavors.
Cantonese cuisine shows that those in the southeast like sweet food, in contrast to a mostly savory palate in the rest of China.
Climate
The climates of central and south China are humid, which make it difficult for perspiration to evaporate. A perceived reason for people eating spicy food is that, according to traditional Chinese medicine, chilies help move internal dampness and cold, increasing health and comfort.
Colder climate areas in the north tend to eat heartier foods with higher calories, as the body needs these to keep warm there.
Travel with China Highlights and Taste the Authentic Cuisines
Our customers are enjoying their dinner in Guilin.
If you want to try authentic our cuisines, our tours can take you to authentic local restaurants.
Recommended Chinese Food Tour
12-Day Beijing, Xi'an, Chengdu, Guilin, and Hong Kong Cuisine tour — explore the most popular destinations in China and savor local Chinese food in each city. Tell us if you'd like to go to other areas.
Or you can contact us, and we can also tailor-make a Chinese food tour for you. Just tell us your interests and requirements.