PARIS — By the end of only the third five-setter Rafael Nadal has played in 112 career matches at Roland Garros, as the sun and temperature descended and the chants of "Ra-fa! Ra-fa!" filled the evening air, the man known as the King of Clay showed precisely what this meant to him.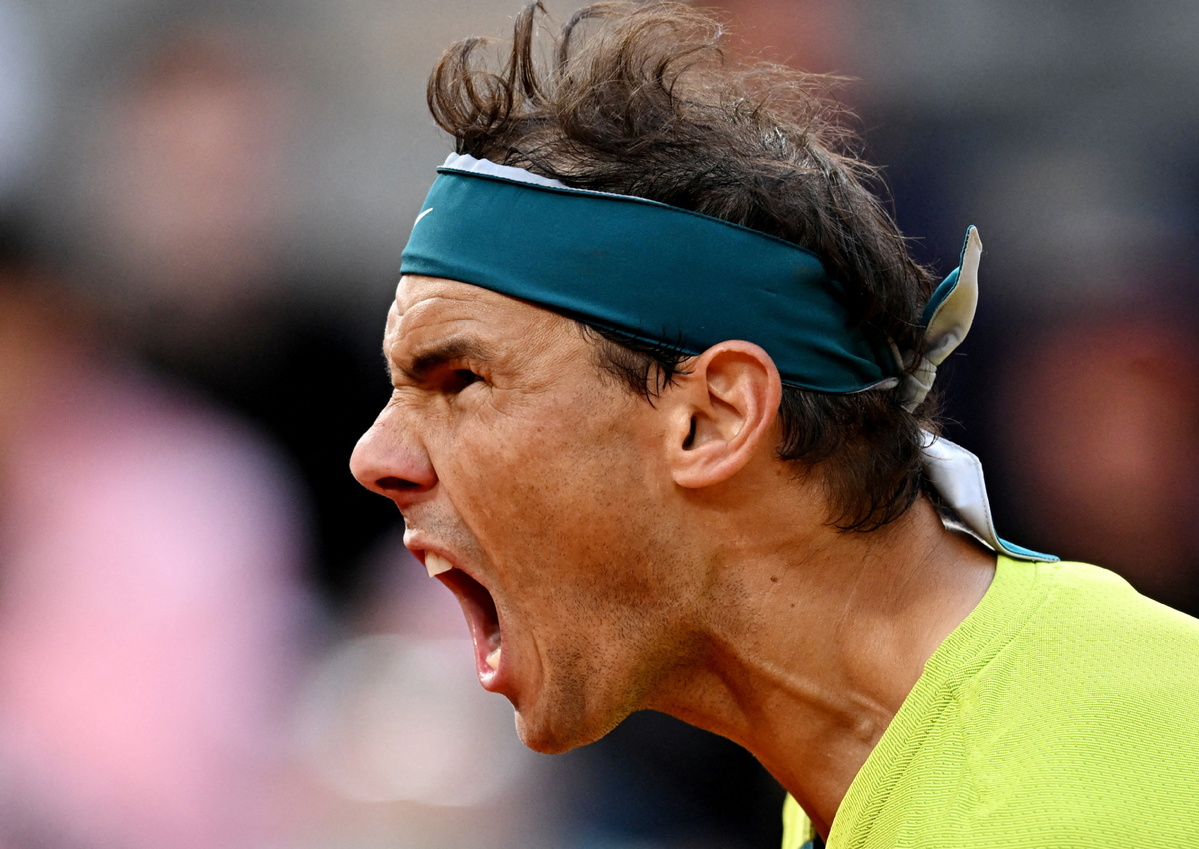 With every sprint-slide-and-stretch to reach a seemingly unreachable shot off the yellow racket of his opponent, Felix Auger-Aliassime; with every right-to-a-corner winner; with every well-struck volley, Nadal would hop or throw an uppercut or scream "Vamos!" — and, often, all of the above.
Nadal got through his first serious test of this French Open by edging No. 9 seed Auger-Aliassime 3-6, 6-3, 6-2, 3-6, 6-3 across nearly 4 1/2 hours of even, entertaining tennis in the fourth round Sunday at Court Philippe Chatrier.
"Being honest, every match that I play here, I don't know if it's going to be my last match here in Roland Garros. … That's my situation now," said Nadal, who turns 36 on Friday. "That's why I am just trying to enjoy as much as possible." And the reward for coming through this one? A tantalizing matchup against rival Novak Djokovic in Tuesday's quarterfinals.
Nadal improved to 3-0 in five-set matches at the clay-court tournament he has dominated the way no one ever has dominated any Grand Slam event. Overall he is 109-3 here, and two of those defeats came against Djokovic, including in last year's semifinals in their most recent showdown.
The significance of the rivalry: Tuesday's meeting will be their 59th, more than any other two men have played each other in the sport's professional era. Djokovic leads 30-28, although Nadal has a 7-2 advantage at the French Open.
"We have a lot of history together," said Nadal, who attended the Champions League final Saturday night won by his favorite club, Real Madrid, and didn't get back to his room until after midnight.
Looking at the larger picture, the formerly No. 1-ranked Nadal's record 13 championships at Roland Garros are part of his haul of 21 Grand Slam trophies, a record for men. The currently No. 1-ranked Djokovic, twice the title winner at the French Open, is just one behind Nadal in the total Slam count, tied with Roger Federer at 20.
Djokovic beat 15th-seeded Diego Schwartzman 6-1, 6-3, 6-3 earlier Sunday and has won all 12 sets he's played in the tournament.
"It's a huge challenge," Djokovic said about playing Nadal, "and probably the biggest one that you can have here in Roland Garros. I'm ready for it." The other quarterfinal in their half of the men's bracket is between No. 3 seed Alexander Zverev and either No. 6 Carlos Alcaraz or No. 21 Karen Khachanov.
Agencies / China Daily